Mobilise for May Internal Comms Campaign
Objectives
Our client wanted to engage employees leading up to a month long internal comms campaign planned for 2015 – with the objective of encouraging them to participate in a day of local volunteering for the new initiative, Mobilise for May.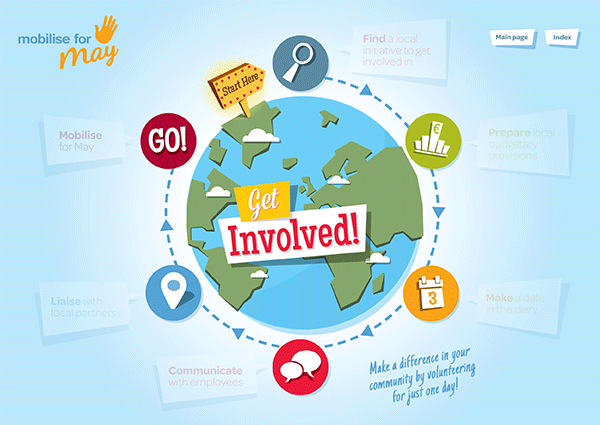 Plan of Action
Kicking off the campaign, we created an eye catching logo identity, with striking colours linked to Imperial's brand values and CR strategy diagram.
Awareness was first raised utilising the DotMailer platform, with a HTML email designed to communicate the benefits of participating in Mobilise for May, with a clear prompt for employees to 'start planning' via the downloadable how to guide.
Featuring 14 interactive pages, the how to pdf opens with a user friendly navigation system, comprising of bold graphical menu buttons linked to each stage of Mobilise for May. On each page, employees are presented with useful guidance and motivating tips to assist with planning and implementing their volunteering journey.
To complete the integrated campaign, a customisable poster with region specific dates helped team leaders spread the word.

Deliverables
Logo Design / HTML Email Design & Build / Animated Banners / Interactive PDF Development / Editable PDF Poster
"It has been an absolute pleasure working with Frances, Steve and the team at Point Creative. It's refreshing to work with a design agency that offers solutions, not problems and constructively challenges you to ensure the very best from a project. The team are responsive, professional and work tirelessly to meet ITG deadlines. Thank you for your continued support."