B&A Group – Branding for Growth
The Challenge:
B&A were at a pivotal point – their transport, land remediation and waste management portfolio had significantly evolved and grown faster than their existing brand could keep pace. With no sign of slowing and ambitious expansion plans on the horizon, the need was apparent to review the brand's purpose and performance in realising the business vision.
The Solution:
We kicked off with an audit of the existing Bristol & Avon brand – getting under the skin of the vision, mission and market conditions as well as delving deeper into the heritage that had served the family business well for over 30 years.
Identifying an opportunity to strengthen clarity, we challenged the 'Bristol & Avon' name. – No longer did it truly represent the geographic remit or describe the services and benefits offered. However, what it did offer was a firmly established brand recall and positive perception among the target audience, thus we were mindful not to rock the boat un-necessarily!
B&A Group was born. A simple evolution of 'Bristol & Avon' into 'B&A' to avoid confusion of its geographic meaning to open doors across new national audiences whilst maintaining a connection with long standing loyal supporters.
Logo Identity Before & After: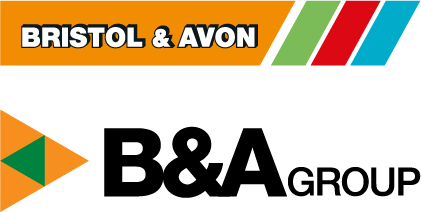 Supporting its growing empire, the main identity was re-positioned as B&A Group – an umbrella brand that nurtures a family of sub-brands each signified by a carefully designed colour scheme. A strong, bold type form embodies B&A, akin to the heavy-duty machinery and rugged landscape the business operates within.

The B&A layered brand mark places heritage and sustainability centre stage. Built upon a strong triangular structure, each orange triangle represents the founding Directors which together put environment at its heart, depicted by the green triangle.
This theme continues in B&A's new strapline 'Responsible, Reliable & Ready', communicating its key principles:
'Responsible' – putting environment at the forefront, as well as workforce & client safety
'Reliable' – 30 years experience, contributing to quality & delivery standards
'Ready' – for the next 30 years! Pro-actively leveraging resources to serve demand and innovate for future sustainability.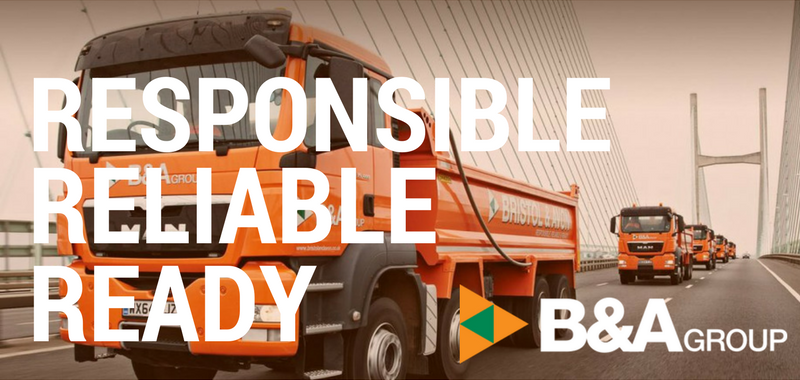 Rolling out the brand played part in B&A's continued expansion plans. Taking pride of place on its new transport fleet which can often be seen running up and down the M4 and M5 corridor, and most impressively displayed for all to admire from far afield at the top of its stunning new headquarters, constructed out of recycled containers, a further nod to B&A's environmental values.